Last Days in the Sault
Note: Unless otherwise noted, these are purely my "memory recalls" that I experienced like they were my own memories, even though I know they could not be my memories. I have no way of knowing if any of these were experienced by pilot Gene Moncla.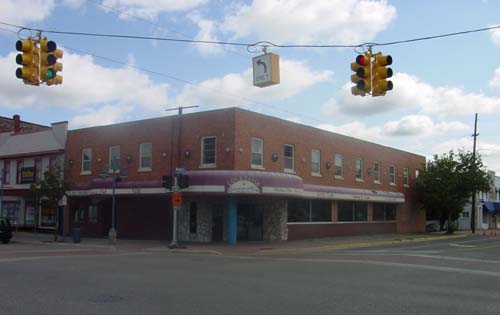 Delmar Hotel
where Gene ate his last meals in Sault Ste. Marie
As far back as I can remember, I have had some sort of fascination with Sault Ste. Marie. This started when I was very young, living in Fort William. My geographical knowledge was quite limited at that time, but we did have a globe which I often looked at. I was quite aware of where Canada was on the globe and where Lake Superior was. I knew that Lake Superior was the world's largest lake and I knew that we lived at "the Lakehead" which was the an area on the northwest end of Lake Superior. I knew we lived in the province of Ontario but I didn't know much about Toronto, Montreal or Ottawa as they seemed remote and far away.
I was however, quite aware of Sault Ste. Marie which was at the other end of Lake Superior. I think I was also aware that there was a Sault Ste. Marie on both sides of the US / Canada border.
I always seemed to have some notion that I wanted to go to Sault Ste. Marie. I remember one trip across Canada when we were travelling by car through Sault Ste. Marie, Ontario at night. I recall feeling a very strong desire to cross the bridge to the other side to visit Sault Ste. Marie, Michigan. There was a sort of ghostly feeling in me, like I had been there in some forgotten time, and that it was my destiny to return there someday.
I wasn't able to go to Sault Ste. Marie, Michigan on that trip, but it was one of many strange haunted feelings I experienced while passing through parts of northern Ontario over the years.
The first trip I made to Kinross, Michigan was in the fall of 2001. This trip was very rushed as I was only able to take a week off from work at that time.
I drove from Vancouver, BC, across the western US to Madison, Wisconsin, and then up to Michigan's upper penninsula. I stopped briefly at Pictured Rocks National Lakeshore and Grand Marais, Michigan. It was afternoon, when I drove east on Michigan highway 28 and made the turn south towards Kinross at highway 48.
This was long before I was aware that Gene Moncla had in fact been staying in Sault Ste. Marie when he was on temporary duty at Kinross. As I made the turn, and started driving south, I started to experience a sense of recall - of having travelled this road before when it was winter and there was snow on the ground. It was an overcast day, but not too cold. I could remember that I had watched a hockey game the night before this trip and had been drinking beer.
As these thoughts went through my head, I thought "Well this is just too much like something you would imagine someone doing. What else would a man do to pass the time on a cold winter night in Michigan?"
I don't know if I gave much thought as to whether these really could be events that might have really happened to Moncla on his last day at Kinross.
It was two years later when I was visiting John Tenney in Royal Oak, Michigan that he showed me a copy of a form from the Kinross Accident Investigation file which revealed the activities of Lt. Moncla in the last 48 hours before he and Wilson took off on the flight over Lake Superior.
The form revealed that Lt. Moncla had been staying in Sault Ste. Marie at a trailer court. The evening of Nov. 22nd, 1953, he got up and went to watch the hockey game about 7:00 PM. After the hockey game, he went for dinner at the Delmar Hotel. After dinner, he was invited to join some other airmen for beer downstairs in the Towne Lounge, where they watched the floor show.
He returned to his trailer about midnight after drinking 3 or 4 beers. The next morning, he went for breakfast at the Delmar Hotel before driving out to Kinross about 3:00 PM.
After I read the contents of this form, I began to wonder if the memories I had experienced, were somehow tied to the real experiences of Lt. Moncla during his last days at the Sault.
That evening after I met John Tenney, I drove up to northern Michigan. The next morning, I drove into Sault Ste. Marie, to see if I could locate any of the locations mentioned in the document of Moncla's last days.
After some inquiries, I soon found the Delmar Hotel. The building had gone through several remodellings and was now closed. I could still peer through a glass door down the stairway which would have lead to "the Towne Lounge" in 1953. I felt I could recall how I had been sitting having dinner, and a couple other airmen had seen me and asked me to join them downstairs. I recall I had joined them as I wanted company and had nothing else to do that evening.
I recall there was a stage or floor, lit by some colored floodlights and women, partially clad in light chiffon capes, dancing.
It was strange looking into the building, just to think about Lt. Moncla being there on his final night in the Sault.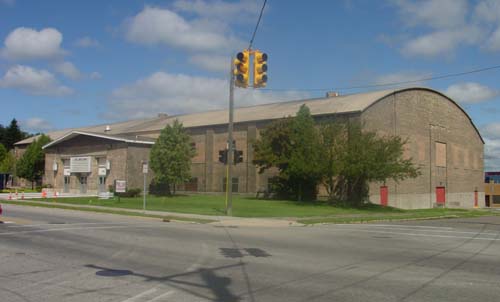 Pullar Arena - Sault Ste. Marie, Michigan
This is the arena that Gene went to see a hockey game his last night in Sault Ste. Marie (November 22, 1953). I found this information on my visit to John Tenney's place in Detroit at the end of August, 2003. This information was contained in an one of the Air Force accident report documents that John had obtained via an FOI request (Freedom of Information). My recollection was that this was the very first live hockey game that Gene had ever attended. At least it was the first live semi-professional game. My recollection is that the home Sault Indians lost I think 3-4 or 3-5 to the visiting team. I think that the visiting team scored a goal in the third period.
My next objective was to try to find the hockey arena. I made some inquiries in a store. A man told me there were actually three arenas and he named and described them all. I knew from his descriptions, that the arena must have been "Pullar Stadium" which was just above the river a little downstream from downtown.
When I got to "Pullar Stadium", the main doors to the arena were open, so I went inside. As I entered the rink and stands area, I was immediately drawn to an area in the stands off to my left. I went up into the stands, sort of in the corner almost behind the goal, and I had a very strong feeling that I had sat here watching a hockey game as Lt. Moncla.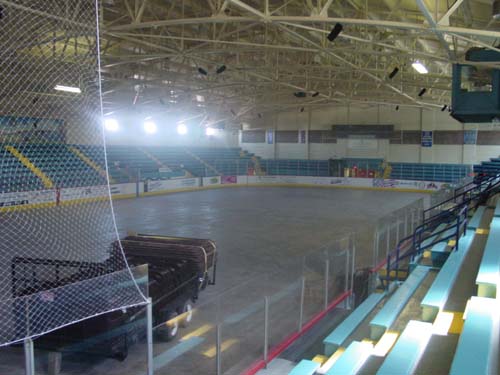 Pullar Arena - Interior
This photograph is taken from the approximate location that I can recall that Gene watched the game from. Actually, I think he may have been a bit more off to the left, and down a row or two.
I felt fragments of memories rushing about the excitement of the game, the scoring and Lt. Moncla's confusion as he tried to figure out the game rules and penalties.
I think I experienced a memory flashback of this game when I was a youth exchange participant with Canada World Youth. At the time, we were staying in the basement of a community hall in Hearst, Ontario that had a washroom but no showers. We used to go to the local hockey rink for showers. One day, after my shower I went into the arena into the stands. When I was in the stands, I suddenly had this flashback memory of being in a similar arena watching a hockey game. It was confusing for me, partially because I could remember that I was an adult when I had been watching the game. I couldn't remember anytime ever going to watch a hockey game in an arena in my life as Gordon, but nonetheless, the memory seemed very real.
Update: August 31, 2004
I have just returned from a trip around Lake Superior. While I was in Sault Ste. Marie, Ontario, I visited the public library. I went there to look at archived microfilm of the local newspaper, the Sault Star. One thing I wanted to check out was the sports coverage of the hockey game that Gene went to see on November 22, 1953.
I was able to locate the newspaper coverage of this minor hockey league game in the November 23rd, 1953 edition of the Sault Daily Star. The article, titled "Tribe Humbles Trappers to Gain Fifth Decision", states that the Michigan Sault Indians had played the visiting North Bay Trappers the previous evening at Pullar Stadium. At the end of the first period, the North Bay Trappers were leading the Sault Indians by a score of 3-2. There was no scoring in the second period but the Sault Indians turned the game around in the third period by scoring three goals in the first seven minutes of the period. The final score was a 5-3 victory for the Sault Indians.
Comparing this to my memory, I was wrong about who won the game and who it was who scored in the third period. However, I was right about the final score. This demonstrates that my memories were either partially lucky guesses or rather imperfect recollections of the real events. I am not sure what would account for my memory that the Sault Indians lost the game. Perhaps I was remembering the tension during the second period when the Sault Indians were trailing and failed to score. I am not sure how I might remember the final score without remembering who had actually won the game.
My feeling is that my memory recollections might be based on real experiences and observations of Gene Moncla at that game. He probably retained a fairly vivid recollection of the game because it was the first semi-pro hockey game he had attended (I believe) and because this was his final night before his ill-fated flight over Lake Superior.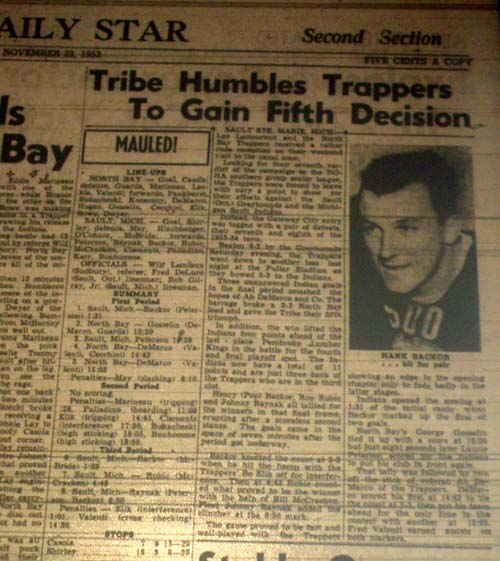 Sport Section from Sault Star, Nov. 23, 1953
This column reviews the game between the Soo Indians and visiting North Bay Trappers that Gene watched the night before his disappearance. My memory recall was that this was the first semi-pro game Gene had watched. Soo Indians won 5-3, with a three goal streak in the third period.
Listening to Radio in Alert Room
One memory I have from Kinross is listening to a radio while I was in the alert room. This memory recall came to me while I was sitting in my car in a lineup waiting for a vehicle inspection at the depot near ICBC in Burnaby, BC. It was a very grey rainy day. I was listening to the radio and the song "Santa Baby" sung by Eartha Kitt came on. As I was listening to the song, and watching the rain drops on my windshield, I was lulled into a sort of nostalgic feeling. I then experienced a recollection of having listened to this song a long time ago when I was Gene. I was in the alert room, sitting on a chair by a counter or table. I was leaned over and adjusting the volume so I could hear the words to the song. Lt. Bill Mingenbach was there in the same room, and he was saying to me that it was a stupid song because all she was singing about was all the gifts that she wanted from her sugar daddy. I said that she had a nice sexy voice.
I later found out on the Internet that the song "Santa Baby" by Eartha Kitt had just debuted on the charts the week before Gene was lost. I also remember Gene listening to the song "Stramger in Paradise" that had also just debuted. I recall he had really liked that song. Other songs on the charts that I remember were:
Istanbul, not Constantinople – The Four Lads
Saint George and the Dragonet (satirical take-off of Dragnet) – Stan Freeberg
Theme from Dragnet