Finding Grand Marais in Atlas
Map of NE Minn. - I am quite sure that this is the map I was looking at when I showed my brother David that I had found Grand Marais in Minnesota.
One reason I identify Grand Marais as the location is a memory of an incident that happened many years after we moved away from Thunder Bay. One day, I was thinking about Grand Marais and I decided to look for it in the atlas. I don't know how I knew the spelling of "Marais", but perhaps I had some acquaintance with French spelling and pronunciation of names like "Beaujolais". I remember looking at a map of western Lake Superior, searching for the name Grand Marais along the coastline of Lake Superior, as I was very certain that I had been overlooking Lake Superior when I went up the hill. I was quite excited when I found Grand Marais on the west Superior shoreline some distance south of Thunder Bay. I told my brother David, that I had found Grand Marais in the atlas and that it was located in Minnesota. He replied to me that the Grand Marais we had visited on vacation was located in Michigan, not in Minnesota. I told him that Michigan was too far away. He told me that he could remember us driving through Duluth, Minnesota on the way to Grand Marais.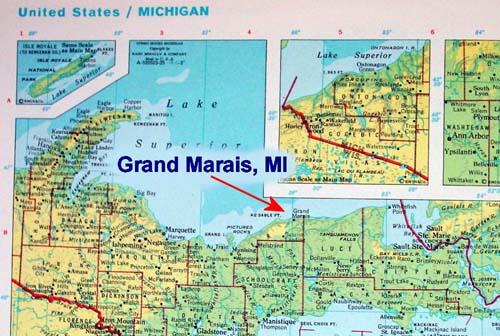 Map of Upper Michigan - This map is on the page to the left of the Minnesota map in the World Book Atlas. I think I recall the my brother showed me that there was also a Grand Marais in Michigan. I still thought it really looked like it was too far from Fort William and this added to my doubts that we had actually been to Grand Marais, Michigan.
I recently was given an old World Book atlas by my father. My dad got the atlas when he was doing part time door-to-door sales of World Book. From the date of the atlas, this was the 1969 edition. The atlas has maps for every state. These maps show geographic features and place names but don't show any roads. Looking at the map of Minnesota, I believe that this was the atlas map I was looking at when I found Grand Marais. One thing I remember is that after I found the place on the map, I went to see my brother. At first I had difficulty finding the place again. I remember locating "Little Marais" on the map but I couldn't find Grand Marais at first, because it was in a separate map insert for the northeast corner of Minnesota. The dating of the atlas indicates this incident occurred when I was in Grade Nine. We had just got the new atlas, and I spent many hours looking at it because I was fascinated by maps.
It seems quite significant to me that I could remember the name Grand Marais as a place we went on vacation twelve years after the incident. One important note is that Oliver Lake is several miles away from Lake Superior, whereas Grand Marais, Michigan and Grand Marais, Minnesota are both located on the shore of Lake Superior.